By Thirteen for Halloween on Oct 23, 2008 | In Listen & Download
It's always wonderful to run into Halloween music that is everything I think it should be: intelligent, classy, and very cool. Even better when the creater turns out to be an old friend from your home state. What kind of a coincidence is that?
My favorite of the set of five songs (3 versions of Ghost of John) is the title song, Arachnitect - I love the "la, la, la" sections (you have to listen to it, it reminds me of little spiders dancing about singing). Maybe the quickest way to describe her style is Elfman-esque. Her vocals are perfectly suited, a blend of sweet and spooky . . .
Anyway, enough words, you have to hear it. You can listen to and purchase Arachnitect at CDBaby.com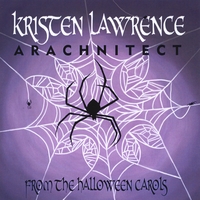 Some of the songs may be fine for kids, but this release is definately aimed at a more sophisticated teen to adult audience.
No feedback yet